Crane Rails
Qingdao Tony Machinery & Equipment Co., Ltd. was founded in 2001 which specialized in supplying materials of international marine engineering. Our main products include steel structure in marine engineering field.
Through many years operation, our average annual turnover has reached 12 million dollars. We also have dozens of stable suppliers which all have ISO certification. We have good cooperation with many famous companies and projects such as Trelleborg Group, China Communications Construction Co.,Ltd, BP company, Hongkong container port, China Cooper Process Co.,Ltd, Eni, McConnell Dowell Constructors Pty.Limited et al. In order to improve quality management, our company obtained the ISO9000 certification on May 2010, and strictly implements the standard.
What we can do for crane rails?
a) Providing a variety of crane rails carefully hardened for tough working conditions.
b) Flexible combination of Engineering, Procurement and Construction.
c) Offering cost-effective solution to your projects through our integration of the supply chain.
d) Supplying bespoke sizes, grades and fully functional solutions to crane rails.
Main Product
1 DIN CRANE RAILS
The DIN "A" type rails (standard European profile) are rolled based on the DIN 5 3 6 /19 91 Specification. The "A" rails, with their wide base, low center of gravity and wide web, are ideal for high side thrusts. They are available in several sizes from A45 to Al 50 whose numbers represent the width of the head in mm. In the past, these rails were offered in two types of steel: 700 and 900.
Recently, a progressive increase of the vertical loads of cranes applied in some special projects has led to the mounting requirement for rails with improved hardening surface. These rails are rolled in 1080Mpa grade steel whose chemical composition and mechanical properties are not governed by the DIN 5 3 6 I l 9 91 Specification.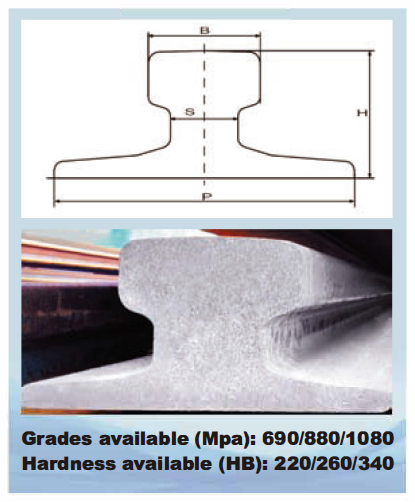 2 NORTH AMERICAN CRANE RAIL
Crane Rails under American Standards (CR 104 to CR 1 7 5) are rolled based on the technical specification ASTM A759-2000 and are offered in either Standard Grade (Control Cooled) or Head Hardened.
The ASTM A759-2000 specification is applied only to type CR crane rails with a nominal mass of 51.6 kg/meter to 86.8 kg/meter.

3 MRS CRANE RAILS
European MRS series crane rails, with MRS73 to MRS221劝dely used in port terminals, mines, etc.
Produced according to mill standard.

4. SPECIAL CRANE RAILS

5 ASCE TEE RAILS

6 JISRAILS

7.Accessories
Provide a variety of accessories to fit different sizes of rails, including DIN Rail, MRS Rail, ASCE Rail, US Crane Rail,etc. CLIK clips are fixed through bolted or welded base.